Are you lucky enough to have a tiny puppy in your home? And you want nothing but the best for it? Then this is the article you need to read! Welcome!

Ellen was the tiniest dog I've ever had in my pack, and the only one who came to my own adult home when she was a puppy. I have to admit that back then I didn't really consider that she might need food specially formulated for small breed puppies.
I honestly don't remember now what she ate growing up. To begin with, I probably went with the recommendations from the woman I bought her from. I had no internet community to ask!
Now I'm much more aware of the importance of proper doggy nutrition from the start for life long health and longevity. And there's an internet where I can share my knowledge and help YOU find the best puppy food for toy breeds!
What Makes Small Breed Puppy Food Different?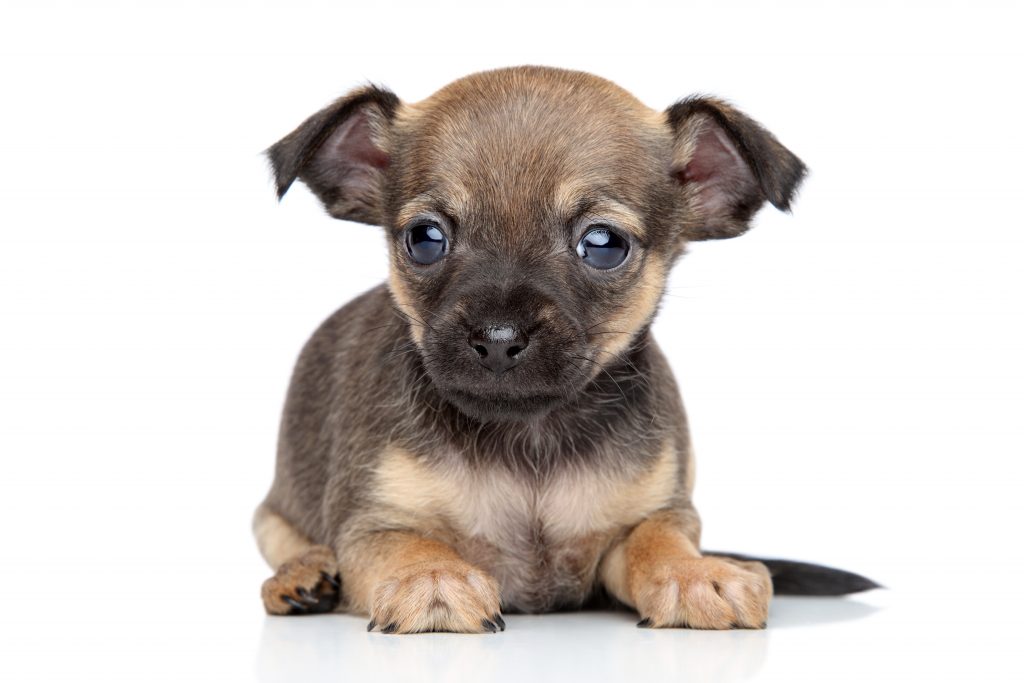 Or, to rephrase it, do toy and small breed pups really need special food?
Obviously, I managed to raise puppy Ellen into adulthood without the knowledge of providing her with special food for small breed puppies. I'm not even sure that such food existed back then.
But would I have given her an even better start in life if I had been aware of her special needs being a toy breed pup? Probably.
So what is it that makes toy breed puppy food different then? Mainly two things:
Calorie Requirements For Small And Toy Breed Puppies
Small breed puppies have very high metabolic rates. This means that they use up a lot of calories in a short amount of time. Not because they are more active, but simply because they have a lot more body surface relative to their body volume compared to a large breed puppy.
This makes them lose a lot more body heat than puppies of larger breeds. And heat is energy.
But having small stomachs they can't eat huge amounts of food to satisfy their need for a lot of energy.
The solution to this is to feed them a more calorie dense food. Also, make sure to spread out the meals evenly throughout the day, to begin with as much as four-to-six times a day.
If your small breed puppy doesn't get enough calories during the day, it is at risk of developing hypoglycemia. This is the scientific word for low blood sugar, which is a dangerous condition for a puppy that can even cause death.
Symptoms of hypoglycemia are:
Note: if your puppy shows any these symptoms, contact your vet immediately!
Kibble Size Matters
Have you ever put a large chunk of some hard or at least crisp food in your mouth?
Then you know how difficult it is to chew, and how actually scary it can be to feel that you don't really have control over where the pieces go once you manage to crush it. Large pieces of food are also a choking hazard for small puppies.
Please don't put your small puppy at risk or give it a hard time eating by feeding her large-sized kibble. Choose an appropriate kibble size to go with the small mouth of your cute pup.
Now, let's dive into what I believe are the best food choices for your adorable puppy! The aim is to find the best food for your toy or small breed puppy to keep it as healthy as possible and at a perfect weight.
Best Toy And Small Breed Puppy Food
It took me a while to end up with the list below. I'm a strong believer in species-specific dog food. However, many of the so-called grain-free foods contain a lot of legumes, which can be hard for dogs to process.
The only legumes I've allowed are peas, but ONLY if they appear way down in the list of ingredients. That is, they cannot be among the main ingredients in the food.
And as always, I avoid corn, tapioca, and white potatoes. They serve no purpose in a puppy's food.
#1: Farmina N&D Chicken And Ancestral Low-Grain Puppy Formula Small Bites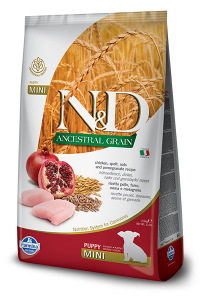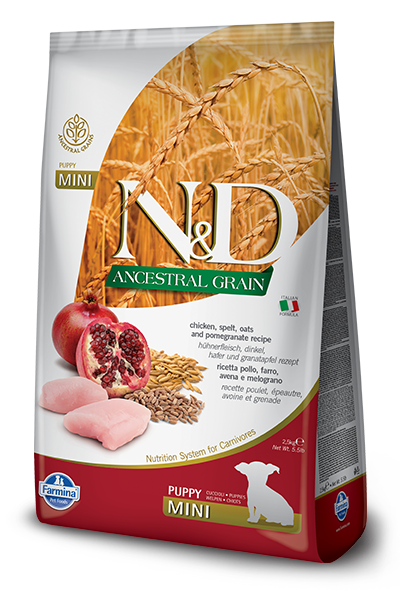 The more I look into this brand the more I like it. As I mention in the review article for giant and large breed puppy food, they have a very scientific approach when developing their formulas.
They work in close cooperation with nutritional experts at the University of Naples Federico II. All their reserach is cruelty-free. That sits very well with me!
This puppy mini breed formula is a part of Farmina's N&D Ancestral Grains line. Obviously, this is not completely grain free, but seeing that 93% of the protein content comes from animal sources (chicken, eggs, and herrings) that doesn't bother me at all.
And make no mistake, compared to many common and popular brands, this is still a low grain food.
So what does "ancestral grains" mean?
There are two types of whole grains in this puppy food. Spelt is a kind of wheat that was cultivated thousands of years before BC. It's considered easier to digest than modern wheat partly due to its water soluble gluten. Spelt also has a broad and impressive spectrum of nutrients compared to modern grains.
The other grain is oats. Oats are rich in minerals, B-vitamins and dietary fiber.
Guaranteed analysis:
Min. 35% protein
Min. 20% fat
Max 1.7% fibers
Est. 27% carbohydrates
Energy value: 440 Kcal/cup
First seven ingredients: Fresh free range boneless chicken, dehydrated chicken (source of glucosamine & chondroitin sulfate), whole spelt, whole oats, chicken fat (preserved with mixed tocopherols), dried whole eggs, fresh herrings (source of glucosamine & chondroitin sulfate).
AAFCO Nutrient Profile: All life stages.

#2: Wellness Complete Health Natural Dry Small Breed Puppy Turkey, Salmon & Oatmeal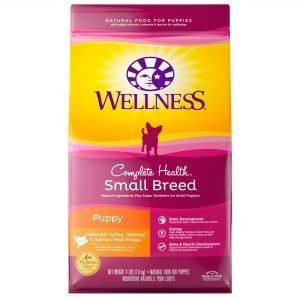 Wellness has developed a good reputation in the pet food industry world. They work with animal nutrition experts and veterinarians to provide "exceptional nutrition".
Their bold slogan is "At Wellness we do things the right way".
Well do they? Let's have a look at this puppy food for small and toy breeds.
Of the first seven ingredients, four are grains, but the very first two are deboned turkey meat and chicken meal. The grains are oatmeal, oats, barley and brown rice.
In my opinion, that's an unnecessarily high amount of grains. But, the ones used are at least the better choices.
There's no information on how much of the protein that comes from animal sources. But considering that the second ingredient chicken meal is a high protein ingredient and there are no peas present, a qualified guess is that most of the protein comes from animal sources.
Why is this important? Animal protein consists of all the amino acids a dog needs, and the bio-availability is much better than for plant proteins. This means that protein from animal sources are more valuable for your puppy and are easier to absorb.
Guaranteed analysis:
Min. 28% protein
Min. 19% fat
Max 4% fibers
Est. 31% carbohydrates
Energy value: 489 Kcal/cup
First seven ingredients: Deboned turkey, chicken meal, oatmeal, salmon meal, barley, ground brown rice, oats.
AAFCO Nutrient Profile: Growth, gestation and lactation, except for growth of large size dogs.

#3: Wellness CORE Grain-Free Small Breed Puppy Deboned Turkey Recipe Dry Dog Food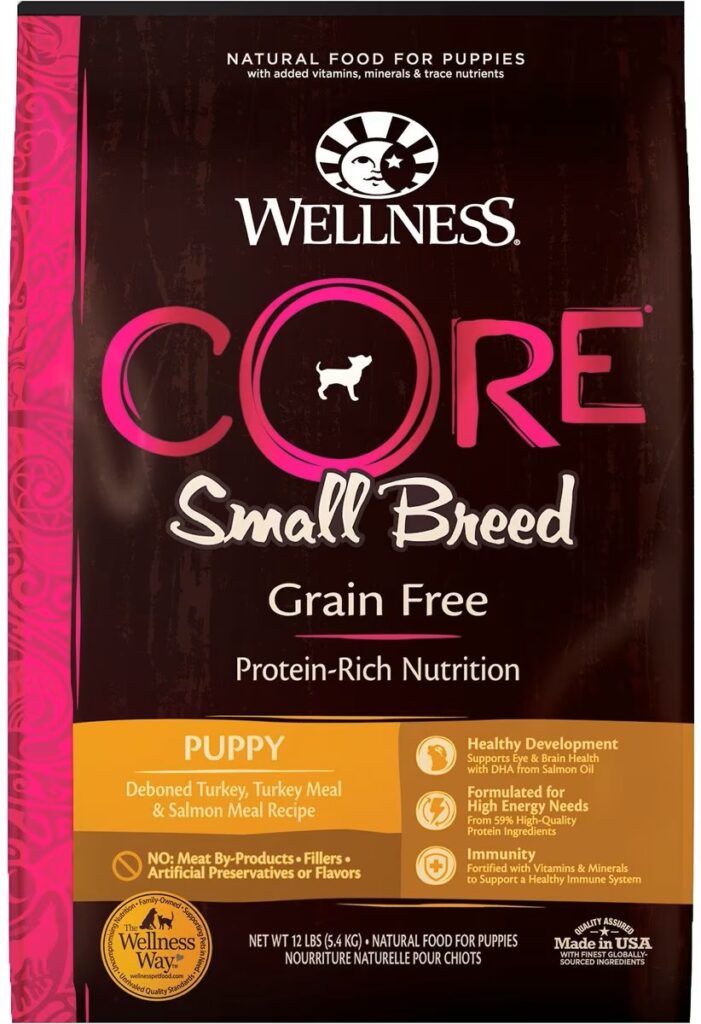 This is another Wellness product, and this one is high-protein.
There are some lentils and peas in the mix, but the main protein sources are turkey, chicken and salmon. The salmon also provides Omega-3 fatty acids.
I'm very happy with this food to be honest, the only carbohydrate sources are vegetables. No tapioca, grains, corn or the likes.
If we look at the estimated carbohydrate content in this food, it's pretty low. This is no surprise seeing that there are no grains or rice in the recipe.
The presence of pea protein in the ingredient list, even though it's the third one, raises the question of how much of the protein that comes from animal sources. Seeing that the first two ingredients are turkey and chicken meal makes me feel I can put the matter to rest though. Chicken meal is concentrated and adds a lot of protein to the formula, so in this case, the meal is definitely a positive addition.
Guaranteed analysis:
Min. 38% protein
Min. 18% fat
Max 4.5% fibers
Est. 29.5% carbohydrates
Energy value: 504 Kcal/cup
First seven ingredients: Deboned Turkey, Chicken Meal, Peas, Turkey Meal, Lentils, Chicken Fat (preserved with Mixed Tocopherols), Ground Flaxseed.
AAFCO Nutrient Profile: Growth, gestation and lactation, except for growth of large size dogs.
#4: Blue Buffalo Life Protection Formula Puppy Small Breed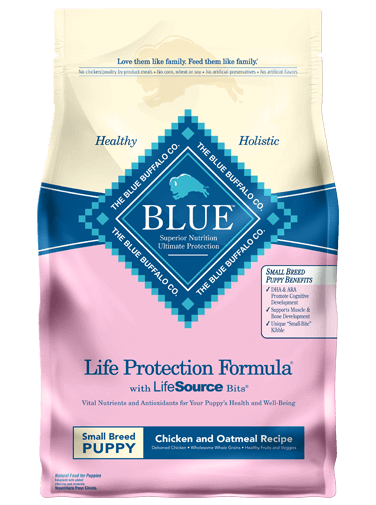 My fourth and final choice (for now) is popular Blue Buffalo's dry food for small breed puppies.
In their Life Protection formulas they use something called LifeSource Bits. Now that sounds appealing, but what is it exactly?
They are said to be rich in antioxidants (antioxidants protect the cells from damage). For this purpose they contain for example kelp, vitamin E and C (which dogs can actually produce themselves) and blueberries.
The bits also contains ingredients beneficial for the immune system and for specific health purposes such as taurine for healthy eyes and heart.
The LifeSource Bits are produced separately from the rest of the kibble. The reason for this is that they are "cold-formed" to preserve the water-soluble vitamins better. How much of a difference this actually makes? I have no idea, but the premise that water-soluble vitamins are sensitive to heat is true.
The Blue Buffalo food contains peas, but as in the Nutro food they are not found until we come to ingredient number 6. That likely means they have no significant impact on the protein content of the food. Especially since chicken meal is the second ingredient.
Guaranteed analysis:
Min. 29% protein
Min. 17% fat
Max 5% fibers
Est. 31% carbohydrates
Energy value: 415 Kcal/cup
First seven ingredients: Deboned chicken, chicken meal, oatmeal, barley, menhaden fish meal (source of Omega 3 fatty acids), peas, dried egg product.
AAFCO Nutrient Profile: Growth, does not specify if large breeds are included or not (but since this is for small and toy breeds, that's not really of interest).
Best Puppy Food For Toy Breeds: Conclusion
I started out with the ambition to pick the 5 best foods for our tiniest puppies. That proved way harder than I imagined.
I'm picky, and I want to be picky. Why shouldn't I be? After all, our puppies are completely dependant on us to provide them with the very best conditions to grow into healthy and sustainable adult dogs.
So, I investigated and discarded a LOT of brands. In the end, I only came up with 4 that I liked enough to include them here. There may be more out there, but if so I have yet to find them.
My favorite? Farmina, without a doubt. I really like this brand. They stand out as being transparent and serious about dog health. They still put some of the ingredients that are unnecessary for dogs in some of their product lines, like potatoes and peas, but always disclose how much of the protein content that comes from animal sources. This is actually quite unique!
The other three I've chosen aren't bad either, and I feel confident recommending them. Many of the big and popular brands put a lot of corn in various forms in their dog and puppy food, as well as byproducts, gluten meal and wheat. A really bad habit if you ask me.
None of the brands I've chosen here do that.
Do you have any questions? Please ask in the comment section below, and I'll do my best to answer them!
---
* Read about chelated minerals in my extensive article on puppy food!