Why would you need a special kind of food for your large or giant breed puppy? Read on to find out, or go directly to the reviews of the 5 best giant breed puppy food brands by clicking on the heading of your choice in the table below.
Growth Of Large And Giant Breed Puppies
Consider this for starters: A Great Dane puppy weighs a couple of pounds at birth. After one year it will weigh 95-140 pounds, which means 50-70 times the birth weight. Now that is what I call fast growth!
A chihuahua, on the other hand, increases its weight only about 15 times during the first year, and is then an adult. The Great Dane puppy will continue to grow for a few more months.
The phenomenal growth rate of large and giant breed puppies puts a lot of strain on joints and bones. It's very important that they don't grow too fast and that they don't get overweight.
The Risks Of Overfeeding

It's easy to fall into the trap of thinking that a chubby pup is a healthy pup. They need some fat to grow on, right?
Wrong!
For a giant breed puppy, overweight is downright dangerous. They risk developing hip dysplasia, elbow dysplasia, osteochondrosis (OCD), and developmental orthopedic disease (DOD).
Free choice feeding is not recommended because of these risks. In a study from 1995, a significant increase in the development of skeletal disease was shown when Great Dane puppies were fed free choice.

How To Determine If Your Puppy Is Overweight

To know if your pup has a healthy weight, simply feel and look at her. You should be able to easily feel the ribs, and there's nothing wrong if they are also just about visible below the skin. When viewed from above, there should be an obvious waist, or hourglass shape.
When viewed from the side, the abdomen should be tucked up behind the rib cage.
Make sure to keep a close eye on your large breed pup's body contour. This is an easy way to make sure she maintains a healthy weight during her growth period, and beyond!
The Importance Of Calcium
Another reason for feeding your large or giant breed puppy the right kind of food is the calcium issue.
Too much calcium increases the risk for large breed pups to suffer from skeletal deformities. The reason for this is that young dogs cannot regulate how much calcium is absorbed from the food.
But too little is also bad.
The AAFCO dog food nutrient profiles state that large breed puppy food must have a minimum level of 1.2% calcium and a maximum of 1.8%. This is on a dry matter basis.

Your growing pup needs just the right amount of calcium to thrive, and this is why choosing a food that is formulated especially for large and giant breed puppies is so important.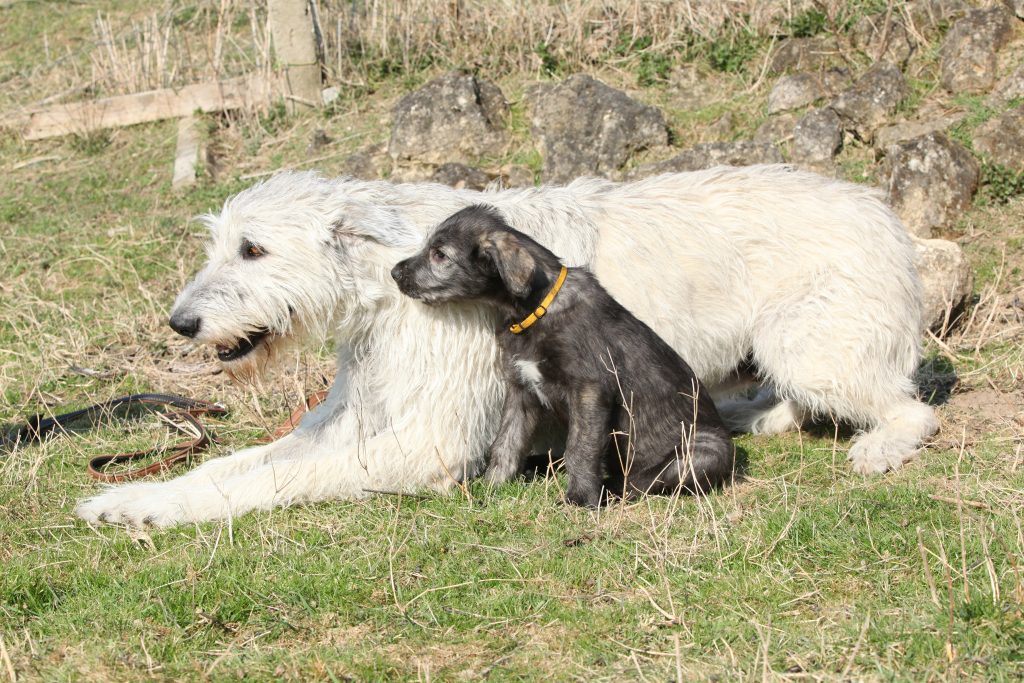 Which Breeds Are Large And Which Are Giant?
Usually, a dog breed is considered large when the adult weight is above 50-55 and up to 70-75 pounds.
Giant breeds weigh from 70-75 pounds and up as adults. Some giant breed individuals can weigh as much as 200 pounds. Crazy, right?
Obviously, the boundaries between the two categories are not set in stone. Other sources use other pound limits. AAFCO use above 70 pounds to decide what puppies belong to a large breed.
It's wise to consider all puppies belonging to a breed with an adult weight above 50 pounds as large and in need of the food reviewed here.

Best Food For Giant Breed Puppies
To make life easier for you, I have researched the market to find the best large and giant breed puppy food.
The AAFCO statement must read "…including growth of large size dogs (70 lbs. or more as an adult)". Then you will know for sure that the food is suitable for your Rottweiler or Irish Wolfhound puppy.
Since I strongly believe, being a biologist, that dogs thrive best on food that is biologically right for them, I will always try to find grain-free food types.
But, since there are not that many brands manufacturing puppy food specifically for large breed puppies yet, I have included some of those that include carbohydrate sources as well. The one ingredient I really have tried to avoid is tapioca. Tapioca is starch and has no nutritional value.
So let's dive right into it!
#1: Farmina N&D Chicken Grain-Free Large Breed Puppy Formula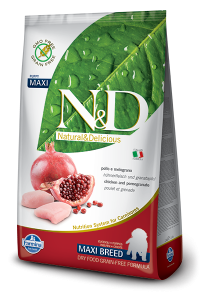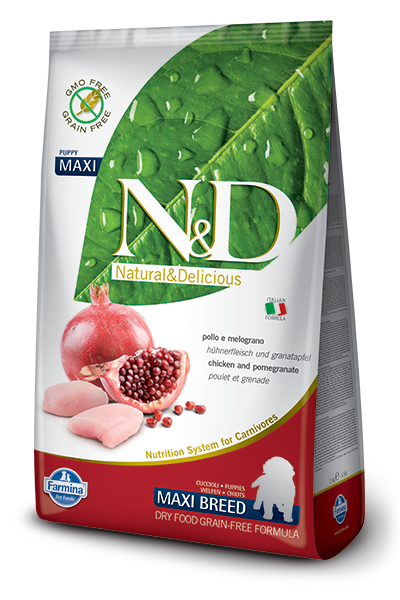 The brand Farmina Pet Foods was a nice surprise for me to discover!
This Italian pet food company has a very scientific approach to their product development. They work closely to the Chair of Animal Nutrition at the University of Naples Federico II.
This puppy food has a lot of features I really like.

They feed test all of their formulations, but in a completely cruelty-free manner. The test dogs live with their families, and the only factor that changes is the food they eat.
A conscientious-minded person might object that this leaves room for unaccounted-for factors that influence the test results. It's hard to completely account for everything that happens to the dog in a home environment.
Me?
I say, may so be it! We're trying out dog food here, not inventing a drug to cure severe illness. They are still clinical trials and the results will be good enough.
There are several product lines, this puppy food belongs to the Prime Canine line. The variants in this line consist of 70% animal ingredients and 30% vegetables, fruits, vitamins, and minerals.

Guaranteed analysis:
Min. 42% protein
Min. 18% fat
Max 2.3% fibers
1.5% calcium
Est. 20% carbohydrates
First seven ingredients: Fresh free range boneless chicken, dehydrated chicken (source of glucosamine & chondroitin sulfate), potato, chicken fat (preserved with mixed tocopherols), dried whole eggs, fresh herrings (source of glucosamine and chondroitin sulfate), dehydrated herring (source of glucosamine and chondroitin sulfate).
#2: Wellness Core Natural Grain Free Dry Dog Food Large Breed Puppy
Wellness has been around since the nineties, and developed quite a good reputation as pet food manufacturers since then.
They claim to have no fillers in their formulations, which is not quite true since they use potatoes as well as grains in their recipes.
But, they do stay away from corn, wheat, and tapioca which in my opinion still makes them a good choice compared to many other brands.
In this large breed puppy recipe they use no grains, so it passes my no-grain criteria and earns its place in this list.
The carbohydrate content is also moderate in comparison, many brands score between 40 and 50% carbs in their food.

Guaranteed analysis:
Min. 35% protein
Min. 14% fat
Max 5.5% fibers
1.6% calcium
Est. 29% carbohydrates
First seven ingredients: Deboned chicken, chicken meal, peas, dried ground potatoes, turkey meal, lentils, ground flaxseed.
#3: Orijen Large Breed Puppy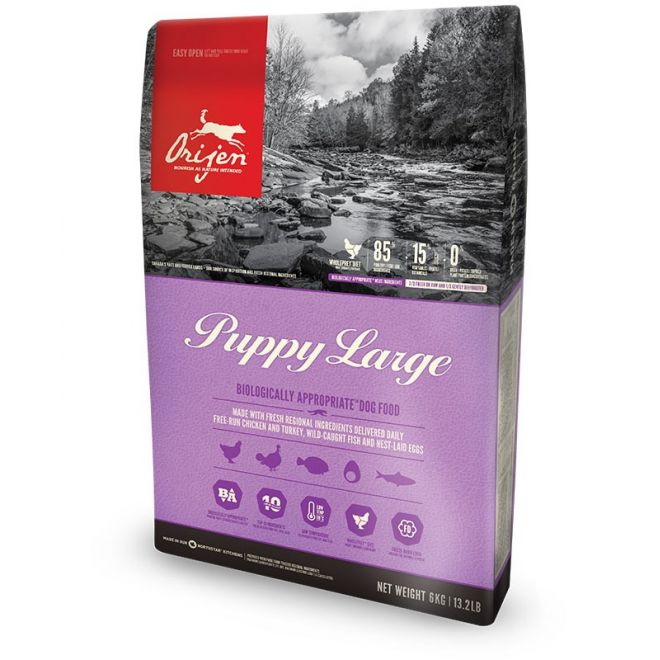 Orijen is a great choice when it comes to dog food in general. I've mentioned this brand before on the site and am happy to do so again.
Orijen does not put any fillers like potato or grains in their food.
They do use legumes, but they are protein rich and are preceded by 15 animal products in the ingredient list. I'm fine with that.
The overall meat content is 85%, the remaining 15% are vegetables and fruits.
Orijen doesn't supplement their foods with neither vitamins nor minerals, with one exception being zinc. They claim that the ingredients supply all that is needed, and the company does supply a vitamin and mineral analysis to prove that.
Guaranteed analysis:
Min. 38% protein
Min. 16% fat
Max 6% fibers
1.2% calcium
Est. 20% carbohydrates
First seve ingredients: Deboned chicken, deboned turkey, flounder, whole eggs, whole Atlantic mackerel, chicken liver, turkey liver.
#4: Victor Nutra Pro Dry Dog And Puppy Food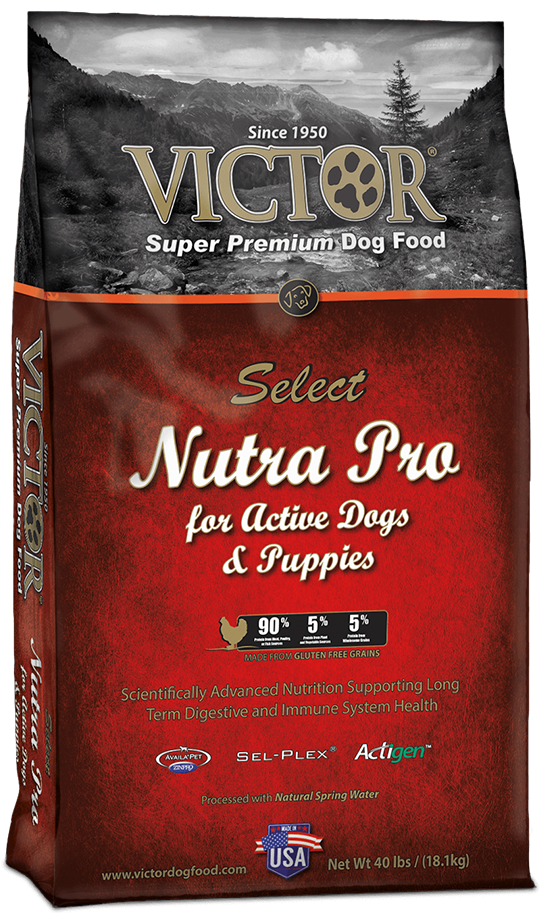 This is another great dog fod brand that I didn't know about until I started my research.
With a high protein content from meat and a relatively low carbohydrate content, Victor Nutra Pro definitely qualifies as one of the five best large breed puppy foods.
The Nutra Pro is part of Victor Pet Food's Select Protein line. The meat content is high, and only 10% of the protein comes from plants or grains.
There are no potatoes in this food. Whole grain millet is the third ingredient, but that doesn't worry me since 90% of the protein comes from the meat. That means the two first ingredients, chicken and beef meal, make up a large proportion of the food.
Overall, the ingredients of Nutra Pro formulation are well thought-out. All of Victor's dog food products contain what they call their core ingredients. These are chelated/complex minerals, selenium yeast, probiotics, and prebiotics.
An interesting ingredient is Montmorillonite clay. The clay is primarily used for anti-caking purposes, but also has a number of positive health effects. Among these are binding toxins, improving digestion and providing minerals.
Brands not using the clay often use other, man-made, ingredients for achieveing the anti-caking effect.

My only wish is that the carbohydrate content was even lower but in comparison with most of the foods on the market the 23% content in the Nutra Pro is more than acceptable.

Guaranteed analysis:
Min. 38% protein
Min. 18% fat
Max 3.5% fibers
1.4% calcium
Est. 23% carbohydrates
First seven ingredients: Chicken meal, beef meal, whole grain millet, blood meal, chicken fat (preserved with mixed tocopherols), menhaden fish meal (source of DHA-docosahexaenoic acid), pork meal.
#5: Instinct Raw Boost Puppy Grain Free Recipe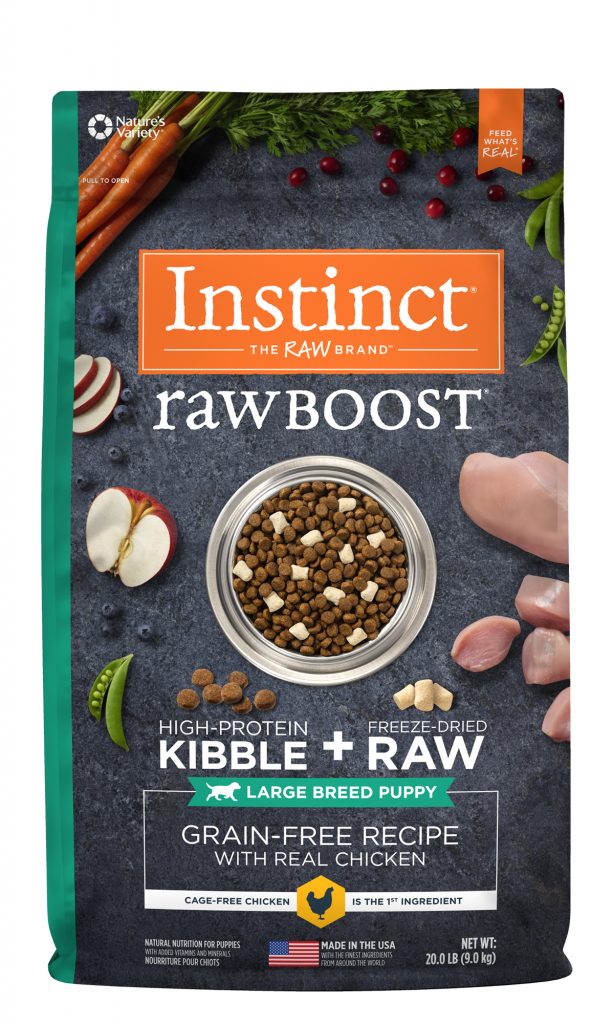 You won't believe how many times I've switched the brand for position no 5 in this guide. Arrrgh! It's still so hard to find really good dog food.
Finally I decided upon this brand and their so called raw boost variety. I actually talk about this in the article about grain-free puppy food as well, but that's the variant that does not include large breed puppies.

The one big drawback with this brand is that they use tapioca. That's a pity since they have great aspirations otherwise. Hopefully, they will reformulate the recipe in the future and get rid of this totally unnecessary ingredient.
I still decided to include the Instinct Raw Boost since it's superior to many other well-known brands on the market. They do stay away from grains, potatoes, corn, by-product meal, and soy.
Guaranteed analysis:
Min. 33.5% protein
Min. 15.5% fat
Max 4.5% fibers
1.2% calcium
Est. 29% carbohydrates
First seven ingredients: Chicken, turkey meal, peas, chickpeas, egg product, herring meal, tapioca.
Best Giant Breed Puppy Food: Conclusion
It's still hard to find really good puppy food on the market. Many of the leading brands put a lot of stuff in it that the puppies don't need and that is not good for them.
One of the largest brands has corn as the first ingredient, then a meat by-product meal followed by wheat and wheat gluten. That is far from being species specific.
Because of this, I'm not able to produce an extensive list of brands to choose from. The above contains the ones I believe one can use with a good conscience concerning the health of one's pup.
The list is in preferred order, but as stated above, they are all descent choices.

The AAFCO nutrient profile for large breed puppies is pretty new. I hope that further down the road more of the brands that produce the kind of dog food dogs really thrive on, like Ketonatural Petfoods, will develop food also for this nutrient profile.